Genuine Metrotile roofs come with a
FREE 40 YEAR warranty*
After installation, simply visit our warranty registration page and complete the online form

The actual duration of your final warranty is dependant on two factors:
The thickness of the metal used in your specific Metrotile tiles. Our thicker tiles carry the full 40 year warranty, while our thinner more lightweight tiles carry a 30 year warranty.
The distance your roof is from the sea. As sea air contains corrosive salt particles, roofs within 750m of breaking surf have a different warranty.
Use the table below to discover your Metrotile Warranty: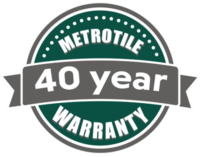 40 Year Warranty
For tiles manufactured with base metal thickness of 0.41mm to 0.55mm
AND
installed on roofs 750 metres or more away from breaking surf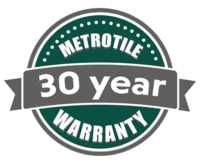 30 Year Warranty
For tiles manufactured with base metal thickness of 0.30mm to 0.40mm
AND
installed on roofs 750 metres or more away from breaking surf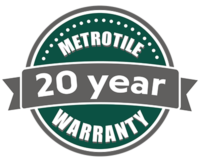 20 Year Warranty
For tiles manufactured with base metal thickness of 0.41mm to 0.55mm
AND
installed on roofs less than 750 metres from breaking surf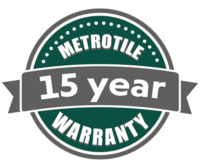 15 Year Warranty
For tiles manufactured with base metal thickness of 0.30mm to 0.40mm
AND
installed on roofs less than 750 metres from breaking surf
Subscribe to our newsletter